When this article posts, I will be sightseeing in beautiful Alaska!  Which is why I chose the photo of an amazing Alaskan glacier for the feature photo.   I LOVE all that is travel!  Seeing new places and scenery, trying new foods, exploring new territories, and being free from all of the burdens of everyday life at home that seem to be ever-present.
Since I am a long-time public health professional and certified health educator, as our regular Unconditionally Her readers know, I put a health slant on EVERYTHING that I do.  This also would include travel!  Which is why I wanted to share a few travel tips for those of you all who may also be sailing the seas, hitting the road, flying the blue skies, or otherwise embarking on a journey to an amazing destination of your choice this summer.
Get Active!
Traveling provides a great opportunity to stay active.   We are visiting a dog sled camp which will involve a bit of a trek just to get there,  doing some sledding, taking a photogenic nature hike with plenty of stops for pictures (hike is a total of 4 miles!) and hoping to get some iceberg and marine wildlife photos among others, and also taking a bicycle tour in Juneau.    Being the fitness buff that I am, I also plan on visiting the on-board gym we have on our ship.
Take advantage of the great outdoors wherever you might be and get outside!  Get a city map of where you are visiting and do your research mapping out parks and local attractions.   Pick up travel materials from the hotel or wherever you are staying about local activities of interest that also keep you up and moving.
Visit the gym if your hotel – or ship – or other accommodations have one.  Some places have super-nice workout facilities.
Pack a DVD of a quick workout you can do in the morning – or evening – to get your heart pumping and keep your muscles active.
Keep an eye on nutrition.
While part of the fun of visiting a new place is trying different foods, balance your meals throughout the day. If you know you are going to be dining on some less-than-healthy food at that Italian gourmet ristorante, then perhaps choose a lighter option for breakfast such as a bagel and fruit.
Don't "waste" your calories on airport "junk" foods or fast food stops along the highway.   Take along your own healthy snacks such as fruit, nuts, trail mix, peanut butter cups (no, not Reeses!) and apples or carrots and other similar snacks.  Save those calories for the good stuff!
When ordering out, follow the same guidelines as you would for healthy eating at home, choosing foods that are heavy on vegetables and fiber, and choosing low-fat proteins such as fish, chicken, and turkey.   Remember to order those salad dressings and other condiments on the side so you can control how much is put on your food.
Make your own meals if you have access to a hotel with kitchenettes.  This will also save you some dollars for other fun activities.
Other ways to stay healthy and well – Visit the Centers for Disease Control and Prevention (CDC) website.

The Centers for Disease Control and Prevention (CDC) has a wealth of resources on staying safe and healthy during travel. Below is some great information from the CDC's website.  The website is worth visiting, as they have information on everything from international travel, road safety, jet lag, high altitudes, traveling with your pets, to, ahem………………traveler's diarrhea. Anything you could possibly want to know about staying healthy while traveling can be found on the site.
Here are a few basics from "Your Survival Guide to Safe Safe and Healthy Travel," which is focused on international travel, but has great information for travelers no matter where your destination locally.  Please remember to visit the website, though, as I am convinced there is no travel question or issue anyone has that is NOT on the site. It is THAT thorough!
Your Survival Guide to Safe and Healthy Travel tips:
BE PROACTIVE!
Take steps to anticipate any issues that could arise during your trip.
Think about your health status.

Are you too sick to travel? (Recent illnesses, injuries, or surgeries)
Do you have any special health needs? (Babies and small children, pregnant women, people with disabilities, people with weakened immune systems)
BE PREPARED!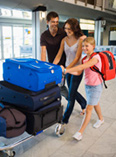 No one wants to think about getting sick or hurt during a trip, but sometimes these things happen. You may not be able to prevent every illness or injury, but you can plan ahead to be able to deal with them.
BE PROTECTED!
It is important to practice healthy behaviors during your trip and after you return home. This section outlines how you can protect yourself and others from illness during your trip.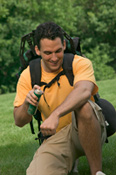 Pay attention to your health during your trip.

Use sunscreen and insect repellent as directed.
Be careful about food and water.
Try not to take risks with your health and safety.
Limit alcohol intake, and do not drink alcohol and drive.
Wear a seatbelt.
Wear protective gear when doing adventure activities.
Respect your host country and its people by following local laws and customs.
For more information on your responsibilities as a traveler, listen to "The Three P's of Safe and Healthy Travel" podcast.
Source:  Centers for Disease Control and Prevention, Your Survival Guide to Safe and Healthy Travel, http://wwwnc.cdc.gov/travel/page/survival-guide.  Accessed June 20, 2016.